3 Enrollment Management Strategies You Can Implement Today
It's a constant struggle for college admissions professionals: you have lofty enrollment goals to meet and not enough time or resources to hit them.
Most of the time, people address this challenge by thinking in terms of volume. If they just place more dials, make more connections, schedule more appointments, they are more likely to hit their goals.
However, this approach is simply not sustainable and can quickly lead to burnout.
Instead of leaning on volume to hit your goals, here are three new enrollment marketing strategies that are more time- and cost-efficient.
1. Knowing the Score: Building a Strategic Enrollment Management Game Plan
In the game of football, good coaches know which quarter they're in, how many points they need to score to win, and can devise a strategy to score those points.
This game-planning approach can apply to admissions as well. For directors to know the score, they should go into each day asking themselves:
How many first appointments were set for the day?
How many rescheduled appointments are there?
How many feedback calls were set for the day?
Once you have this basic information, you can statistically project whether or not you're likely to hit your goal for the day.
For example, say your goal is to conduct six appointments for the day. On average, you might know that about 75% of prospects actually show up to their appointments. So, you know that you need to set eight appointments to meet your goal. Or, about one per hour.
The most successful admissions professionals are doing this math. They look at their projections and then plan their outreach accordingly.
2. Creating a Culture that Prioritizes Referral Lead Generation
Building a strategy for referral lead generation is one of the most important enrollment management best practices. However, many schools overlook the importance of referrals and don't devote enough of their time or budget to acquiring them.
To be successful, prioritizing referral lead generation has to be ingrained into the culture of the admissions department. It should be endorsed by leadership and reinforced as a critical part of the strategy every single day.
Why is this so important?
Well, referrals cost $0 AND convert higher than any other media source. This is probably the most underutilized source for enrollment.
| | | |
| --- | --- | --- |
| | Non-Referrals | Referrals |
| Lead to Appointment | 52% | 75% |
| Appointment to Interview | 46% | 63% |
| Interview to Enrollment | 26% | 29% |
It may seem like a ton of work, but getting more referrals is actually easy to do once it becomes part of your process. When it starts to become automatic and part of the everyday conversation you have with your prospects, your referral numbers will start to climb.
For example, when you're giving a prospect a tour, you'd obviously show them the classrooms or labs of the program in which they're interested. However, consider showing them the facilities for other programs.
If they're an economics major, take them to the chemistry lab. Maybe their best friend is going to be a chemistry major. Let the prospect visualize their friends in your beautiful, state-of-the-art lab. They will likely spread the word and you could have another tour booked before long.
Another easy tactic to incorporate into your conversations with prospects is to ask them who will be joining them on the tour or appointment. It'll typically be a parent or guardian, but if they are bringing a friend, this is a terrific opportunity. If that's the case, be prepared to welcome them in the same way as if they were the ones to book the appointment.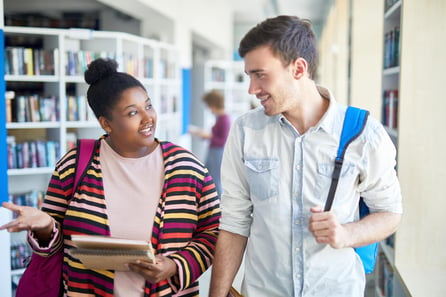 There is also the "old school" but effective trick—always having a few business cards on hand. You never know who you'll be chatting with at the store or at a party that knows someone who's attending school in the Fall. You might be surprised at how effective this can be.
These tactics don't require any extra time or money. By taking these steps, you'll be setting yourself up for success and much more likely to hit your targets.
3. Bucket Management: Managing an Effective Enrollment Management Budget
How do you organize your enrollment management budget?
If you're not thinking about it in terms of buckets, you're missing some great opportunities to be more effective with your budget.
Ideally, your enrollment management budget should be broken down into four categories:
Marketing
Re-enrollment
Referrals
Re-entries
As part of the enrollment team, you should have goals and expectations to know what percentage of your enrollment should come from each bucket. You should also know how many interviews, appointments, phone calls, etc. are needed in each bucket to hit your goals.
Most often, marketing will account for the biggest bucket and from where most of your enrollment will come. However, if you lean too heavily on one particular bucket, eventually the well will dry up.
A typical budget breakdown might look something like this: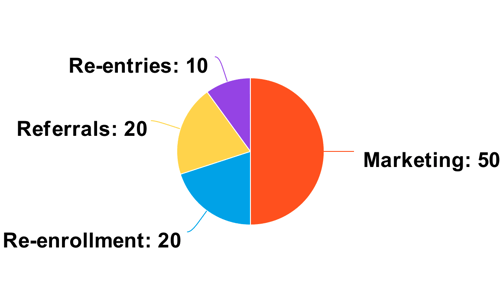 Just by thinking about your enrollment management budget in terms of these buckets and being intentional about how you organize it, you'll be ahead of the game. Most directors of admissions don't take this step and they miss opportunities to see where their strengths and weaknesses are and adjust accordingly.
Getting Started with New Enrollment Marketing Strategies
So, how quickly can you implement these strategies?
"Knowing the score" and creating a culture that prioritizes referral lead generation are things that you can start doing today.
Bucket management will take more planning, but you can start digging into your data today. How have you managed your budget in the past? Where have you seen the most success? Where are some opportunities to increase enrollment?
Ultimately, focusing on these strategies will help you and your team increase enrollment and become more efficient in how you get there.
If you're looking for more ideas for enrollment management and mapping the student lifecycle, then check out our guide: The Power of One: A Higher Ed Roadmap to Effective Student Lifecycle Management.