Referrals: The Secret Sauce of College Admissions
For nearly a decade now, colleges throughout the United States have suffered from one major problem: declining enrollment. As of 2019, college attendance has declined for the eighth consecutive year – with an overall decline of 1.7 percent last year alone.
There are countless factors contributing to this decline, from the rising cost of college tuition to the decrease in the college-aged population. But if you ask me, one of the culprits is sitting right inside every campus in America. What is it? The admissions department and their referral program.
Most schools say they focus on referrals; however, most schools would admit that their referral program could use some refinement. Too often, Admissions Representatives exclusively focus on converting the leads that the company provides rather than using those leads to identify more qualified prospective students. This method results in some enrollments, sure, but it's nowhere near the number a representative can generate if they chase referrals.
What if 40% of your starts came from referrals? Would you be interested?
I have worked in the Career College sector for almost 20 years. I began my Higher Ed career as an Admissions Representative and since, held various titles such as Director of Admissions, Corporate Director of Admissions, Campus President, as well as Regional Director of Operations where my primary emphasis revolves around Admissions and Operations. Today, I would like to provide all Admissions Reps (and anyone else working in higher ed) some useful information based on my personal experience and proven techniques.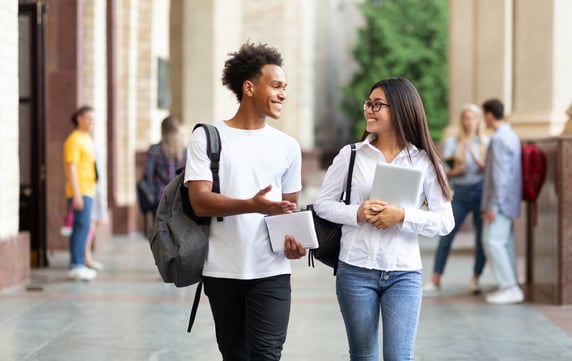 The Power Behind Student Referrals:
Referrals convert higher than any other media lead
From a marketing perspective, referrals cost the least
Two referrals per day, per rep, can dramatically change the number of student starts
As you can see, referrals offer tremendous potential to any college or university. But how does an admissions rep get those precious referral names? Here are a few tips:
When to Ask for Student Referrals
Admissions reps often ask me, "When should I ask for referrals?" The answer is easy: ask for referrals when on the phone, during the interview (most common and effective), after the Financial Aid visit, while on campus during break, while off campus, at Orientation, on Start Day, and during your student's course of study.
There's always an opportunity to get a referral, and if you're tenacious enough, you'll boost attendance numbers in no time.
How to Ask for Student Referrals
I'm also often asked, "How should Admissions Representatives ask for referrals?" Based on my experience, there are several ways to ask for referrals. Some methods prove to be better than others, but the most important thing to do is simply ask and be consistent.
Generally, Admissions Representatives are uncomfortable when asking for referrals. To prevent this, Administration really needs to provide them with a daily expectation (like two referrals per day) and also give them effective tools so they are more comfortable broaching the topic.
Student Referral Program Ideas
One technique I have used as an Admissions Representative, as well as when I managed teams, was called the Brainstorm Method. This technique is recommended during a prospective student interview – and best of all, it doesn't hinge on whether the prospect enrolls. If a rep's referral goal is two per day, this method can yield a week's worth of referrals in a single conversation!
Here's how the brainstorm method works:
Admissions Rep: <First Name>, I want to congratulate you on having the courage to take this big step and visiting us today/enrolling with us today. Clearly, you are very serious about changing your life. How many people do you know, who do not have the courage to even visit and get career information?
I mean seriously, how many people do we know in this economy that are currently unhappy with their current situation?
<First Name>, let us do a quick exercise.
(Give the prospect a blank sheet of paper and a pen)
Admissions Rep: <First Name>, I want you to write down just the first names of EVERYONE you know that, in your opinion, either wants to get a career or needs to get a career. Simply write down their first names. It could be a friend or family member. It could be a high school friend, a neighbor, people that you work with, people you used to work with. It could be an ex-boyfriend, and ex-girlfriend, your mom, your dad, your husband, your wife. It could be your aunt, your sister, your brother.
(Make sure the prospect's pen is moving. Whenever the prospect's pen stops moving, repeat the brainstorm. You are jogging the prospect's memory by simply asking them to remember first names and helping them through the memory jogging process)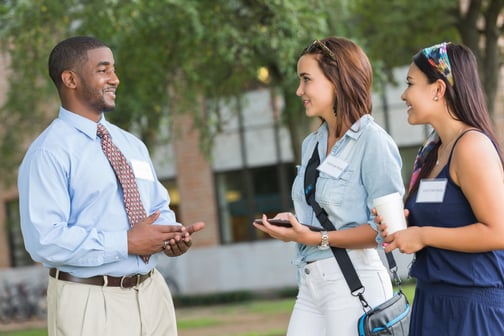 Admissions Rep: <First Name>, take out your cell phone. Look through your contacts. Sometimes there are people that really need our help that get forgotten in the cell phone. Remember, it could be a cousin, best friend, parent or brother of a friend, a family member, a coworker, an ex-boss, the drive-thru guy at Wendy's, your Facebook friends…
(Get the pen moving again. When the pen stops again, you may want to excuse yourself by saying, "Think a little bit more, I'll be back in one minute. Excuse me.")
At this point, there should be at least 5-10 names on your prospect's paper. The next step is to find out a little about each person:
Admissions Rep: So <First name>, Tell me about Johnny. What is he up to?
Prospect: Oh, Johnny is my cousin. He works at Target. He's not happy there.
Admissions Rep: Well, it couldn't hurt for me to show him around right? What is Johnny's last name and phone number?
Prospect: Smith, his number is (555) 555-5555.
Admissions Rep: Great. Let's see if we could help him. First Name, in your opinion, on a scale from 1 – 10, 10 being the most interested, like you. How interested is Johnny in getting a new career?
Prospect: Well, I would say 8.
Use the same line of questioning for all names on the list. When you are finished it should look something like the below image.
Admissions Rep: <First Name>, I think we may be able to help one of your friends or maybe more.
Prospect: ok.
Admissions Rep: <First name>, who do you hang out with most from the names you gave me? Crystal?
Prospect: That right! She's my best friend.
Admissions Rep: Cool, what do you think she will say when you tell her that you might enroll (or that you enrolled)?
Prospect: I think she would be very happy for me.
Admissions Rep: Great, let's give her a call? Call her from your cell and put your phone on speaker. Tell her the good news then let me talk to her too. I want to tell her what a great choice you're making.
With the brainstorm method, you'll be able to get contact information for 5-10 individuals – all based on one conversation. This allows you to reach out to more people and potentially boost enrollment at your college easily! If you put this plan into action, you will be on your way to being the BEST Admissions Representative you could be.